By : Trent Bartlett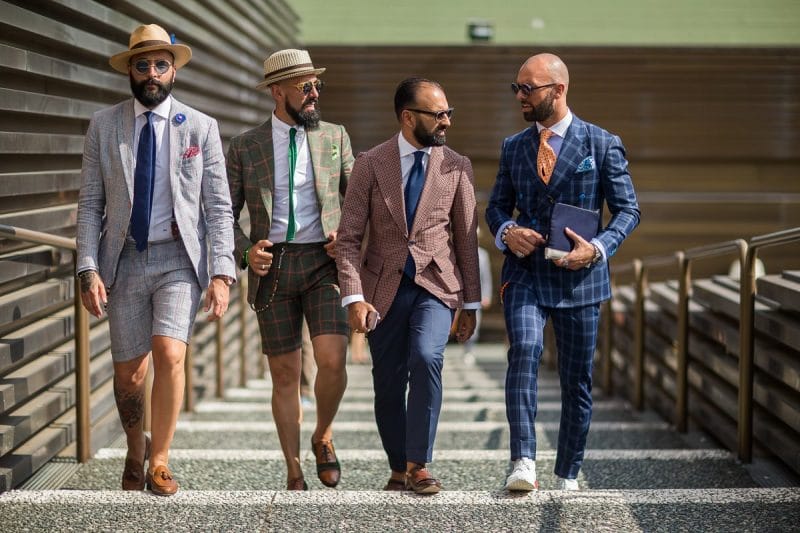 The cliché goes that women usually have a good selection shoes in their wardrobe. If you want to risk starting an argument, pick out a random shoe from your girlfriend's collection and ask her when she last wore it. Dozens of shoes, some of which never worn, yet all of them somehow necessary. Men are usually a little more practical with their shoe collection. The well-dressed gent need not worry himself with so many pairs of shoes.
We've put together a practical list of shoes that every man should own. These styles will cover you in almost any occasion. Of course, we are not saying that you must limit yourself to only these styles, but they do make for a solid base to your wardrobe. From sneakers to boots, these are the seven shoe styles that should find a home in every man's wardrobe.
The Brogue
Like so many types of dress shoes, the brogue was conceived as a far more utilitarian shoe than the way we wear it today. The holes and perforations in brogues were originally there to help drain water after crossing bogs and swamps in muddy Ireland. Today, we think of the brogue with a little more respect. Hopefully, you won't find yourself knee-deep in muck when wearing them.
For versatility, we suggest a pair of half brogues (perforated toe cap, but no wings). Opt for dark brown brogues for formal occasions and lighter brogues for casual days. Black brogues work best with a suit but don't get carried away and wear them to a black tie event. When buying brogues remember as a rule of thumb, the more broguing on the shoe, the less formal it is.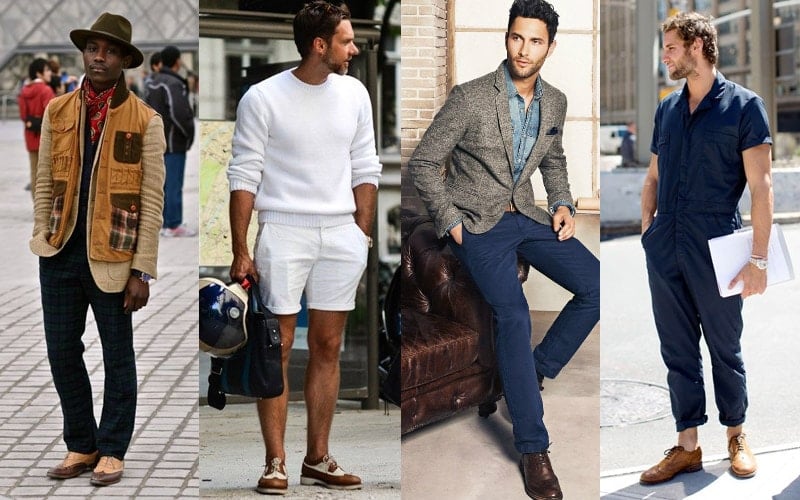 GET THE LOOK
The Suede Chukka
Chukkas have surged back in popularity over recent years, having first become popular in the '40s. The shoe is a minimal, round-toe, ankle-high boot with just two or three lacing eyelets. Traditionally featuring just two panels, the style is not big on embellishments. Reject over-the-top trimmings, a suede pair of chukkas lets the texture of the shoe do its talking.
We suggest opting for a pair of tan or cream suede chukkas as the next addition to your wardrobe. These shoes find themselves at a more casual end of the pool, offering an elegant alternative to sneakers. Combine chukkas with a pair of jeans or chinos and a polo shirt for the best look. They also give you a safe option to dress down an outfit that threatened to become too formal with brogues. By combining a pair of chukkas with a sports jacket, you can make your outfit appear more approachable.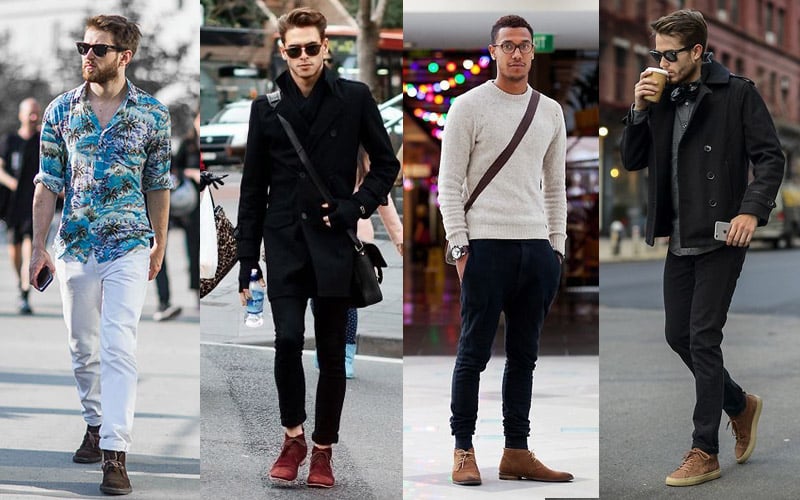 GET THE LOOK
The Leather Boot
It is hard to pinpoint one style of men's leather boots as the must-have for all wardrobes. The range of ankle high boots is so varied that one could become carried away and develop a boot-buying habit. Few shoes can convey as much personality as the boot. The great thing about a leather boot is with continued wear, the shoe begins to tell a story. While we don't suggest wearing boots that are falling apart and covered in mud, a well-worn pair of creased leather boots have their own character.
A pair of leather lace-up boots is a must-have addition to every man's winter wardrobe. Opt for an ankle-high, black or dark brown boot and cuff your pants for a casual, edgier aesthetic. You can also pull your trousers over the top of the boots for a more conservative look. Invest in a quality pair and they will last you years, and begin to tell their story.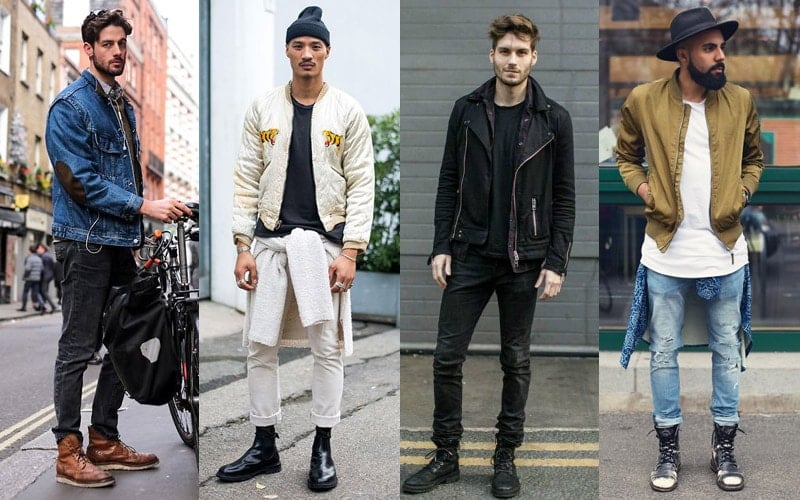 GET THE LOOK
The White Low Top Trainer
If you are going for a more casual look, we cannot thumb our noses at a simple pair of white low top trainers. While we will never condone the high-top 'sneans' that were popularised by dads everywhere, we do think a minimal pair of sneakers is a must-have for all men.
White low tops are perfect when styled with black jeans for a monochromatic look. A minimal pair of white trainers is fantastic at portraying a casual yet neat look for when boots or chukkas are too much.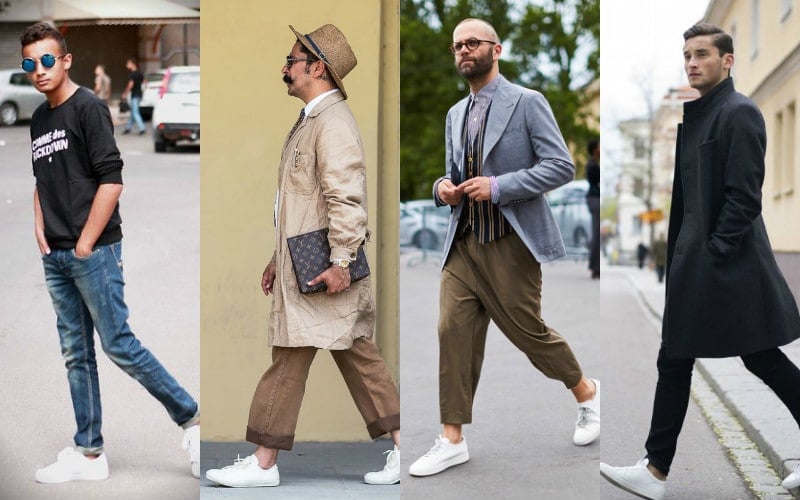 GET THE LOOK
The Loafer
Originally of Scandinavian origin, the loafer has developed into the sartorial styling of preppy culture and is now a streamlined shoe style. Low and lace-free, loafers are a mainstay of smart casual dress and are a favourite shoe style for summer months.
A pair of brown loafers will suit a range of palettes and will work for both casual and formal looks. Navy is also a good colour to consider and works well to complement tones like whites, beige and greens. Burgundy is also a great colour and can work well to brighten up your wardrobe. If you are after a pair of loafers to suit neutrals, beige will work well, and complements tanned skin.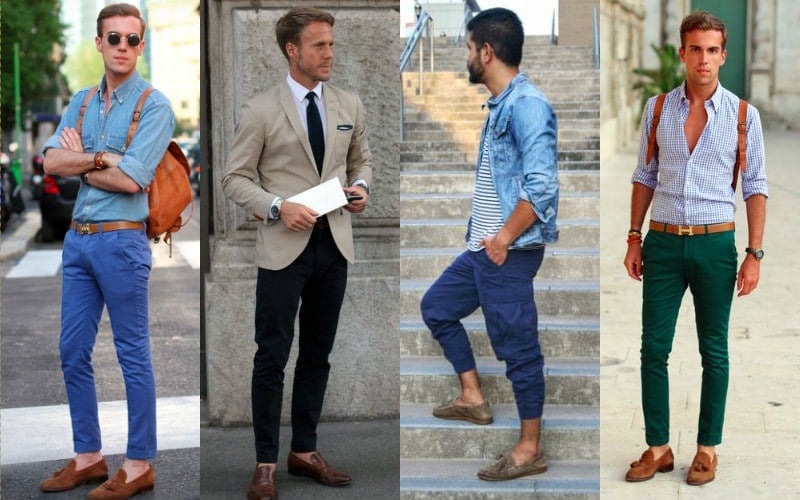 GET THE LOOK
The Oxford
The Oxford is characterised by its closed lacing unlike the open lacing system of the Derby shoe. The design was originally a plain shoe made of leather, but over the years it has evolved and now includes a broad range of fabrics and detailing.
Most men already own a good pair of black Oxfords which they wear for more formal occasions; however this shoe also looks great in a tan colour for casual events.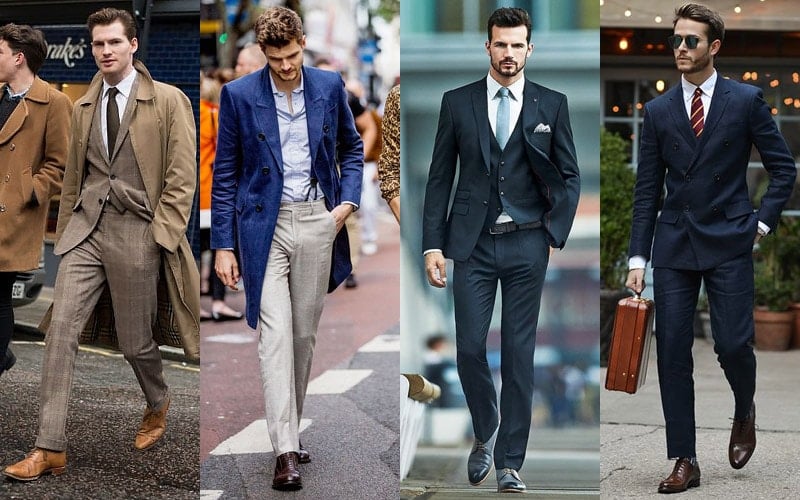 GET THE LOOK
The Running Sneaker
We mentioned that we would be practical in our approach, so here are the most functional shoes in the list. A pair of comfortable but stylish running sneakers is a must-have for every wardrobe.
While running sneakers are designed to feel good, rather than look good, we do have a few tips on choosing the right pair. For versatility, choose a style with minimal branding. Bright colours also work well for a statement street look. White running shoes will appear beaten and bruised within a few weeks so a good shoe care routine will need to be in order.